Overview
Since 1991, Folsom, El Dorado, and Sacramento Historical Railroad Association has hosted the annual Folsom Handcar Derby on the former Southern Pacific Placerville Branch, where local businesses, groups, and charities compete to get their handcar across the finish line in the fastest time.
The event also features competitions for individual strength and endurance, and it's the only known event in the world to feature quadripede racing!
Our official racing handcars are provided for time trials & racing.
Timing is done electronically.
The event runs rain or shine.
All proceeds benefit Folsom, El Dorado, and Sacramento Historical Railroad Association, a non-profit 501(c)(3) organization.
Handcar Racing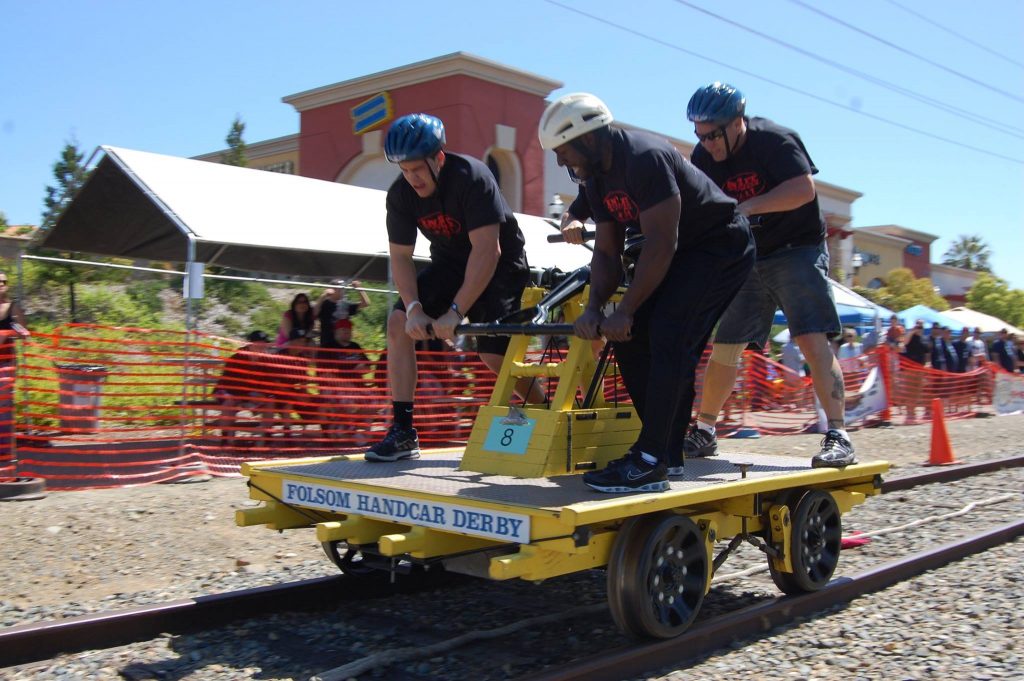 Each team is comprised of 5 members: 4 pumpers and 1 pusher. The pusher pushes the handcar into motion at the beginning of the track, and then the pumpers take over and pump the handcar to the end of the track.

Pushers Contest
Each team's pusher will automatically be entered in the pushers contest on Sunday. Pushers are placed in weight divisions and compete on how far they can push an empty handcar down the track with a single push.
Divisions
Open
Teams will be divided into weight classes.
No more than two team members that were part of a past first place team in the last three years are allowed.
Co-ed
At least 2 team members must be women.
Women's
All entrants must be women.
Masters
All entrants must be 40 years old or older.
Seniors
All entrants must be 55 years old or older.
Elite Women & Elite Masters
All must be past first place medal winners from the Folsom Handcar Derby and other handcar races.
Quadripede Racing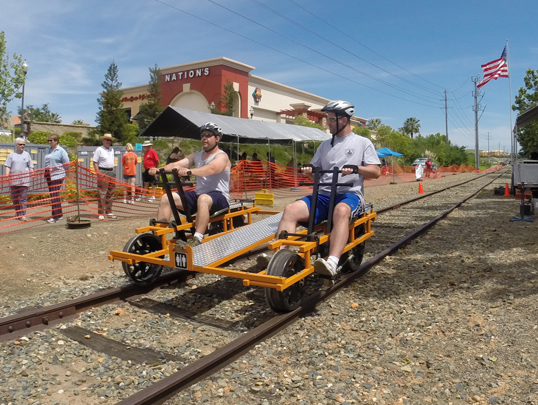 Location
The race takes place along East Bidwell Street at Broadstone Parkway in front of Broadstone Marketplace.
Schedule (2019)
Saturday, May 18
9:00 am – 3:00 pm
Registration/Practice/Qualifying
Teams get practice, trial time run, and safety training on handcar. All teams from each division running trial runs will advance to the finals.
Team Photos
Sunday, May 19
9:00am – 9:45am
Pusher's Contest

9:45am – 10:00am
Opening Ceremony
10:00am – 1:00pm
Handcar Racing
1:00pm – 2:00pm
Quadripede Racing
2:30pm – End
Award Ceremony/Photos
Awards will be presented to the first and second place teams of each of the nine divisions when at least 4 teams are entered in that division. Pusher Contest awards will be given to the top three distances in all divisions.
Teardown
All teams are included. It's an event tradition!
Rules
All competitors must be at least 18 years of age on practice or race days to participate.
A single competitor may be on more than one team, so long as the teams are in different divisions.
All paid entries must be received two weeks before the event.
T- shirts and team numbers will be picked up at the check in area on race day. Teams not paid by four days before the event will receive XL shirts for each team member.
A complete set of official rules will be given to the team captain upon receipt of the team's entry form and fees. A schedule for the race will also be included, along with other important information, reminders, and instructions.
All teams must receive a mandatory safety and training session on handcar and quadripede operation before being allowed to race.
Time trials must be completed before Sunday's final events.
Fees
Entry fee is $25.00 per person for the 5 member team (total $125.00).
The first 20 teams entered will receive a short-sleeve Folsom Handcar Derby t-shirt (5 shirts per team, $3.00 extra for each XXL shirt).
Quadripede racing is $10.00 per person per race. Two people are required to race.
Pushers Contest is $5.00 per person (if not already a pusher for a team)